Statement
The process of learning might be compared to the analogy of a funnel:
However, contrary to popular thought, you begin by entering the narrow end.
The more you progress, the more it expands into greater discovery-
And the less of an audience you will have…
                                                                                                            Jerry Lee Schmidt
**********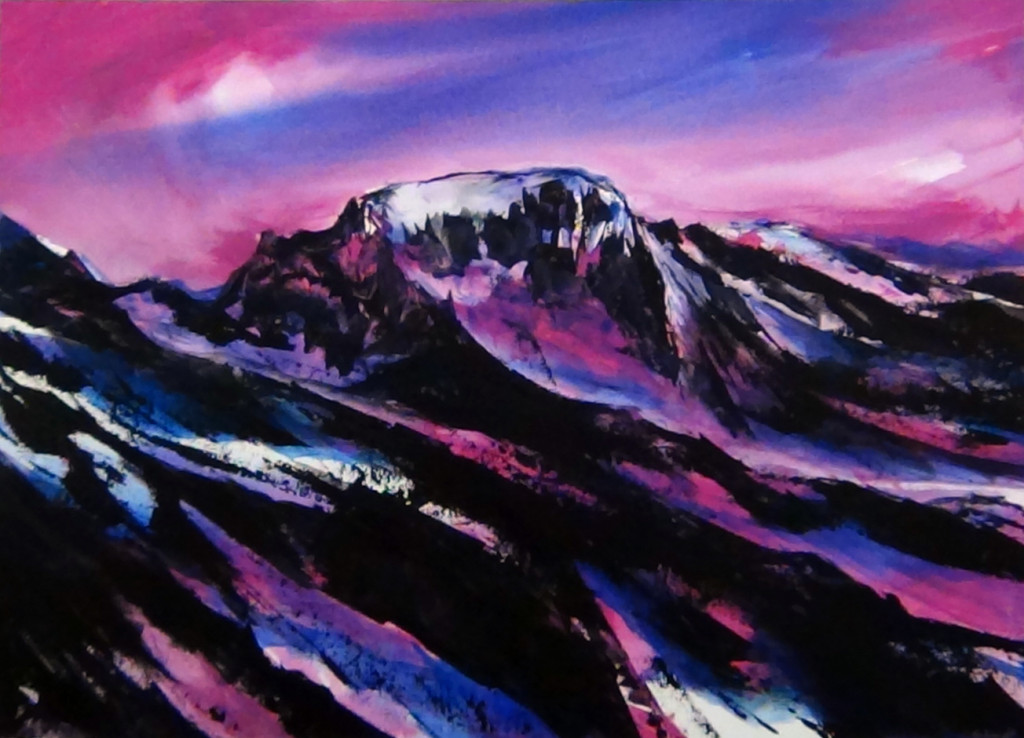 GANNETT PEAK
17.5 x 24.5 Inches – 2015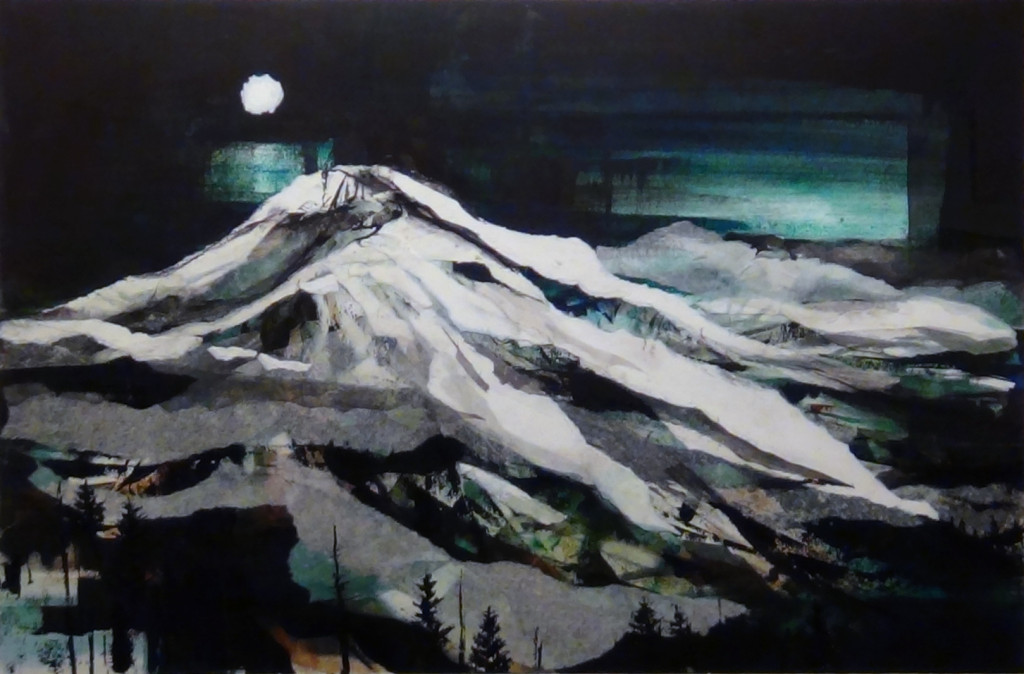 MOONLIGHT BASIN
13.5 x 20.5 Inches – 1994
**********
The energy contained within these creative paintings is the result of the initial abstract design–
and the process of uniting that design to some form of recognizable reality, or imagery. 
Jerry Lee Schmidt – 2016 
**********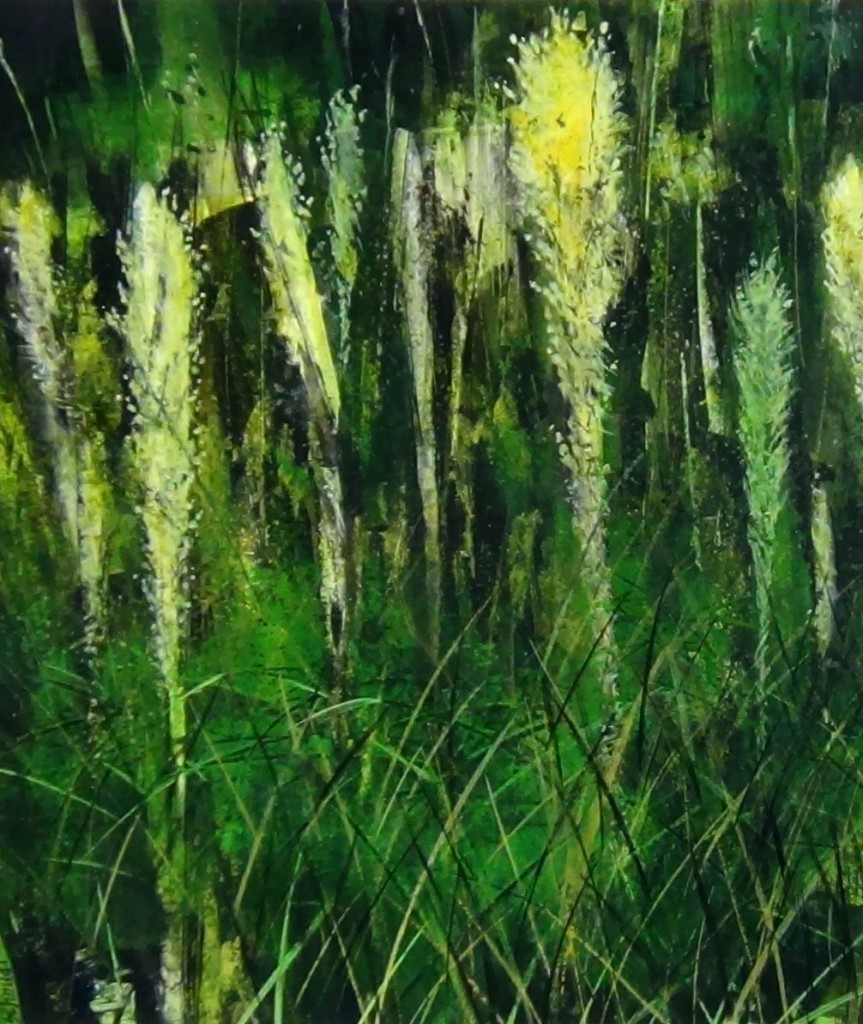 SQUAW GRASS
Detail – 2016
AQUAMEDIA
-Pigments Of My Imagination-
A Brief Statement About My Work
In general, most of my paintings will usually begin as a particular response to something that I may happen to see, or experience.  With regard to the more creatively executed paintings–it may be something that I might amplify with a good dose of imagination, in addition to the initial visual imagery.
What I strive to bring into the beginning phases of actually creating any specific painting is to convey that first initial sudden impression, or idea that has caught my attention.  My immediate goal or desire is an attempt to catch that specific essence, or spirit of the subject–and transfer that essence onto the surface–giving life to the pigments.  This is something that I consider absolutely essential in the process of creating powerful artistic images.
The initial washes are free-flowing, as they begin to form the essential abstract design of the composition.  Keeping things free during this phase creates powerful movement and energy.  As the work progresses, I begin to tighten down on particular forms, always being careful so that I do not overstate or define, thereby leaving something to the viewer and their imagination. 
I want my paintings to stimulate the viewer's memory and emotions, going well beyond the concept of merely presenting visual imagery.  A painting of this quality wears rather well–it has a timelessness about it–as well as mystery.  There is always something more for the viewer to discover.
My desire is to carefully work towards achieving the fresh quality of a watercolor executed in about 60 minutes, while at the same time having all of the rich textures and solidity of a painting that has been carefully crafted, stroke by stroke.  This Principle of the Resolution of Opposites creates perfect balance and unity within the composition.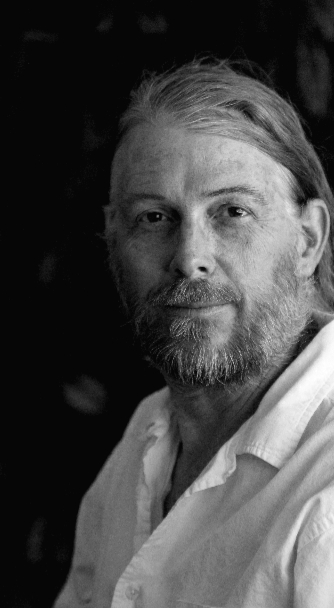 Jerry Lee Schmidt
Photo By Robyn Schmidt
**********
– TRUE ART –
A PROGESSIVE OUTLINE
"LEARNING IS A PROCESS OF DISCOVERING OUR OWN IGNORANCE."
LEARNING during the creative ARTISTIC PROCESS is one of continual self discovery.  We discover our own ignorance.  It might be said that we enter into a funnel at the narrow end.  The more we progress, the more it expands into greater discovery.  Therefore, the more we learn and progress, the more we realize we know very little–for we are made acutely aware that there is yet so much more to know.  We discover our own ignorance.
"SELF DISCOVERY IN THE ARTISTIC PROCESS BRINGS ABOUT THE REALIZATION OF OUR ON-GOING IGNORANCE."
As we see that "Self Discovery in the Artistic Process brings about the realization of our on-going ignorance", we are faced with a dose of "HUMILITY". 
This "humility" can serve to "SUPPRESS THE EGO."
When "the ego is suppressed", we "LOSE OUR AWARENESS OF SELF", which hinders free expression.
By "losing our awareness of self", we are free to "CREATIVELY EXPRESS" ourselves.
Within this realm where we are free to "creatively express", "TRUE ART" is born.
The FUNCTION of "true art" is: "SHARING EXPRESSIVE COMMUNICATIONS WITH MANKIND".
The PURPOSE of "true art" is: "TO GIVE MANKIND THE HINT TO 'SEE' FOR ONE'S SELF".
IN SUMMARY, IF WE COMBINE THESE TWO CONCEPTS:
"TRUE ART ENDEAVORS TO OPEN THE 'EYES' OF MANKIND VIA EXPRESSIVE COMMUNICATIONS".
Written By Jerry Lee Schmidt – 2011
Content Copyright  (c)    2016 – 2023    JerrySchmidtArtist.com    All Rights Reserved