Razor Drawings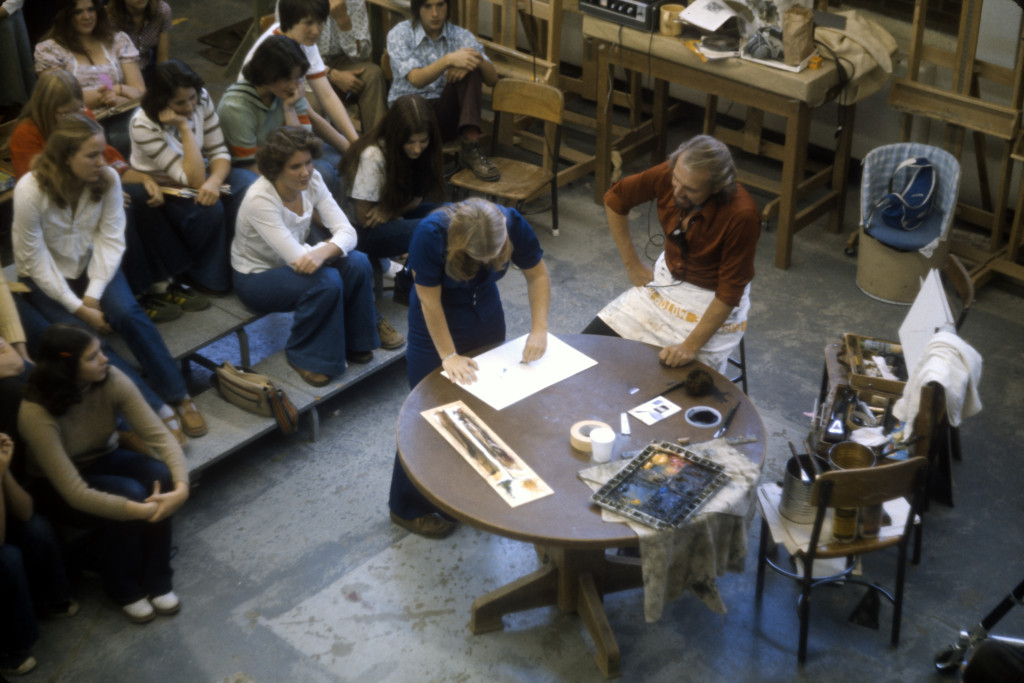 Joyce Kelley and Val Thelin sketching with a razor blade – October 1975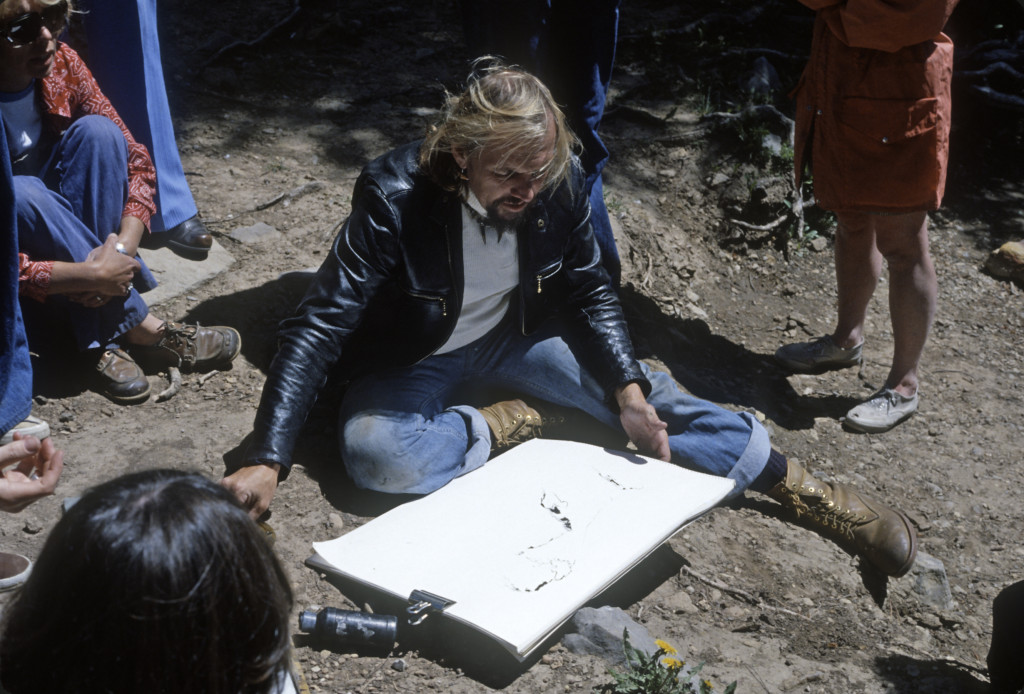 Val Thelin Workshop – Sketching with a razor blade at Fairy Lake – June 1977
– SKETCHING WITH THE RAZOR BLADE –
When sketching on location, I will typically use a razor blade dipped into India Ink.  This method of sketching gives the artist a much better "immediate sense" of shapes, patterns, and forms.  In addition, it is a very direct "two value" system, making it easy to establish flow patterns within the composition right at the outset.  I will also add that the razor blade is essentially identical in shape to the single stroke brushes so commonly used in watercolor painting.  This can prove to be an asset when you move from the techniques used in your field sketching, to working on a finished painting in the studio using those large single stroke brushes, as there is a very direct causal relationship that occurs here. 
Just place about a half teaspoon of ink into a shallow plastic or metal lid from an ordinary jar.  I usually sketch on an illustration board, and a favorite board that I prefer for this type of sketching is the number 300 Crescent cold press.  The board is usually cut into pieces of either 10 x 15, or 15 x 20 inches in size.  I tape all four edges with one inch wide blue masking tape.  When the sketch is finished and the tape is removed, the drawing will look matted just as it is.  I will also use black acrylic tube paint, and apply it with the edge of a credit card, working in a manner somewhat similar to the razor blade and ink.  The black acrylic has more body and covering power–at times a good thing.
The sketches can be left as either stark "two value" black and white artwork, or they can be further modified to incorporate a third value–or even color tinting.  To create a third value, I just wet a piece of paper towel, and run it across certain areas of the drawing, picking up some of the ink, which creates a gray value.  This is good for softening edges, or making cloud forms, etc.  Tinting the drawing with watercolor can provide a nice touch, such as what you see in the ink sketch of "DEVIL'S TOWER".  The color tinting can provide you with very useful color notations when using the sketch as a reference when creating finished paintings at a later time in the studio.  The sketch can also be sold as a finished work of art just as it is–either in basic razor blade black and white, or with relevant color tinting within certain passages.
**********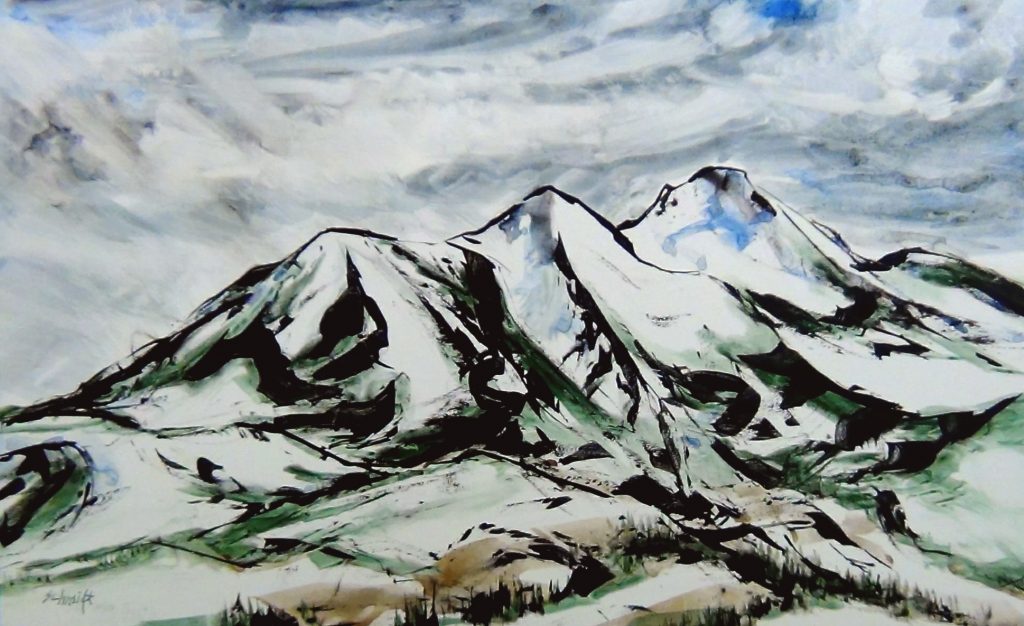 EMIGRANT PEAK
13.25 x 21.25 Inches – 2019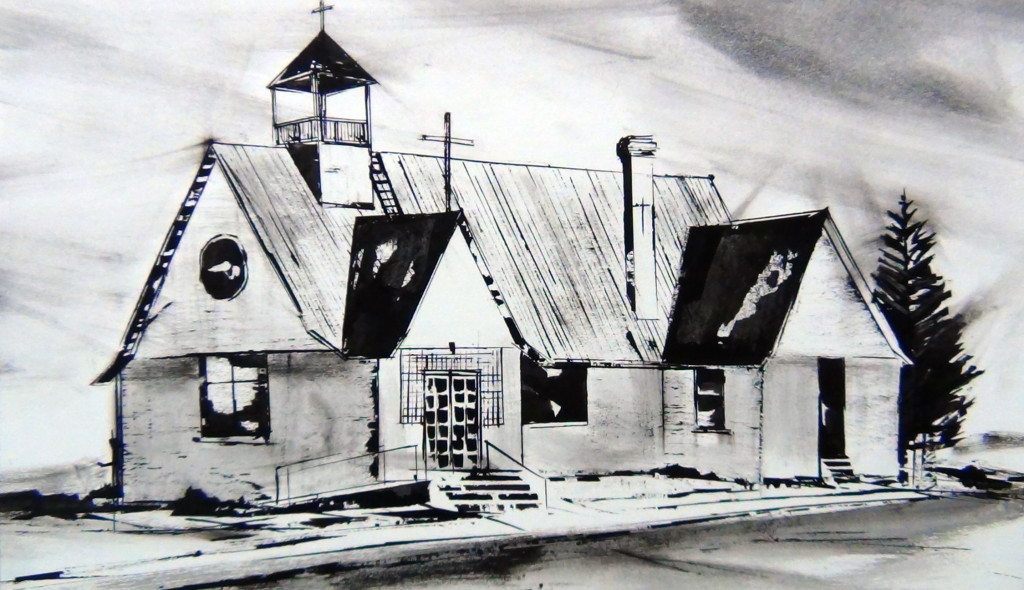 CHURCH AT LAURIN
12 x 17 Inches – 1995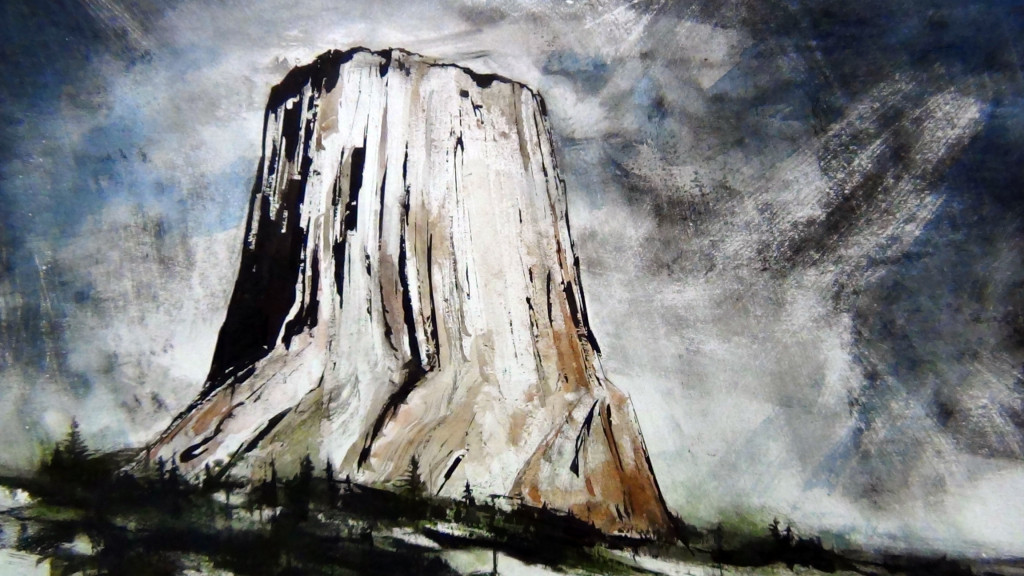 DEVIL'S TOWER
11.75 x 16.75 Inches – 1994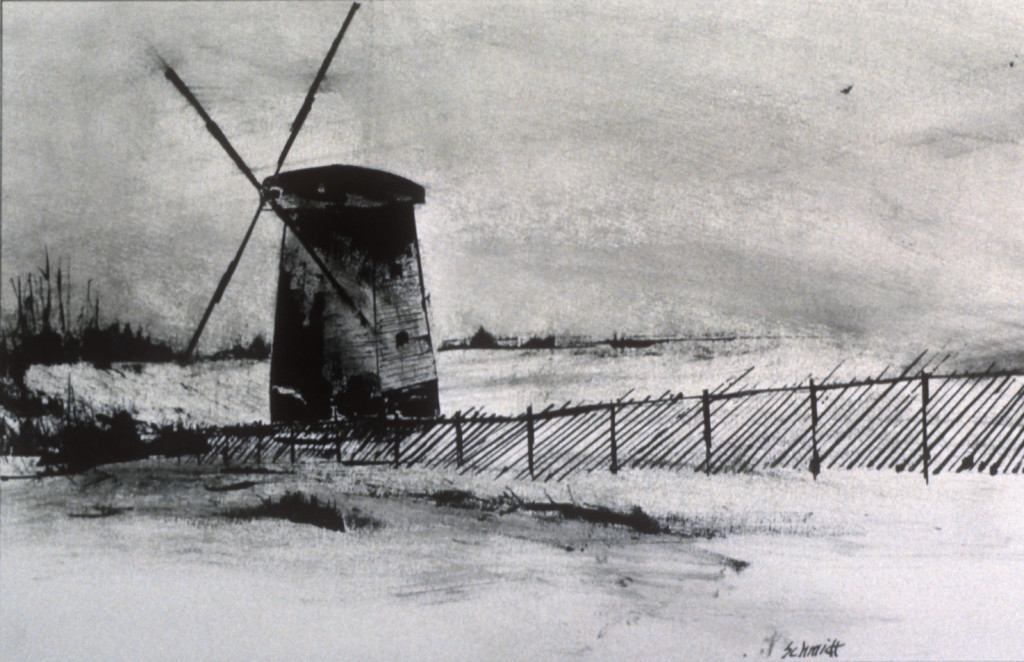 RUSSIAN WINDMILL
10 x 14 Inches – 1989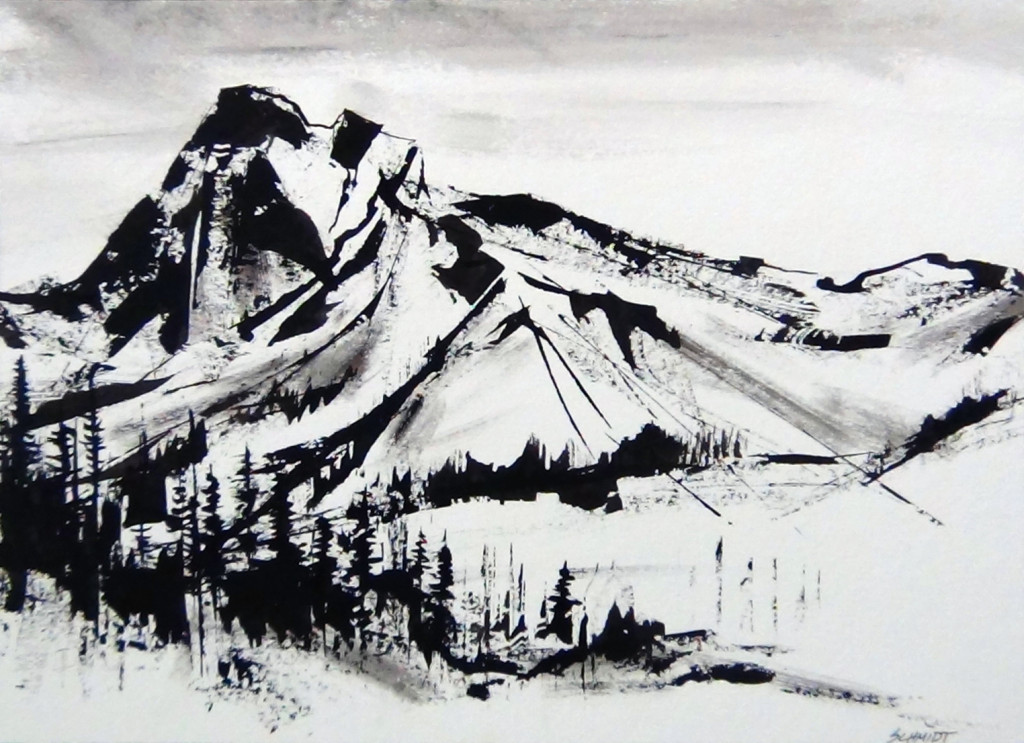 BLACK MOUNTAIN RIDGE
10 x 14 Inches – 1995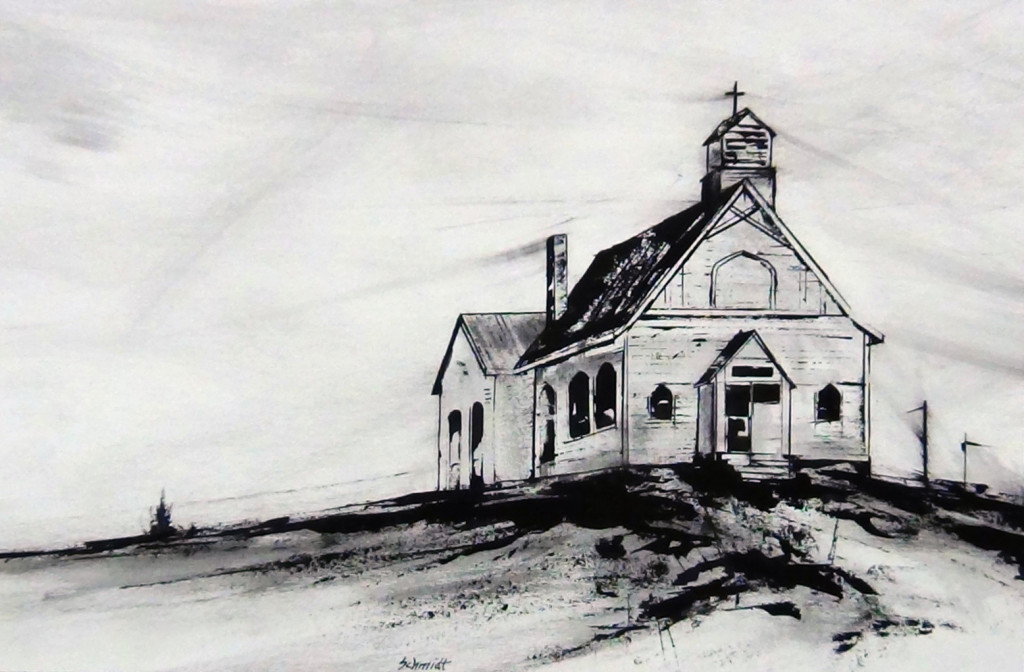 RINGLING PRAYER HOUSE
10.25 x 15.5 Inches – 1992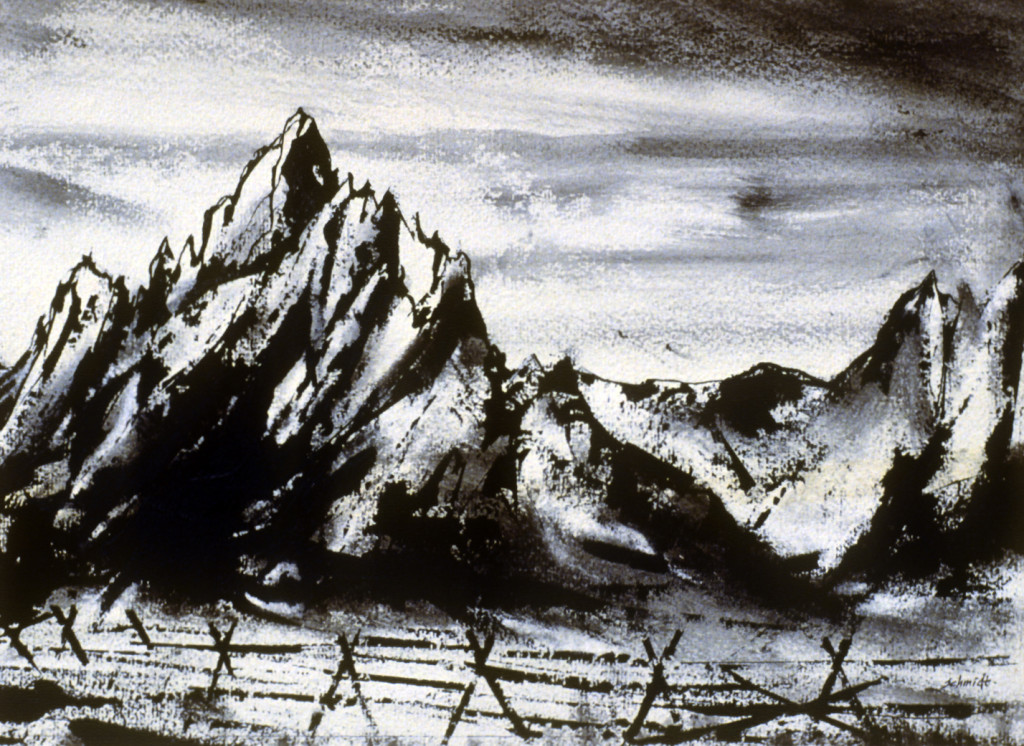 TETON CREST
9 x 12.5 Inches – 1994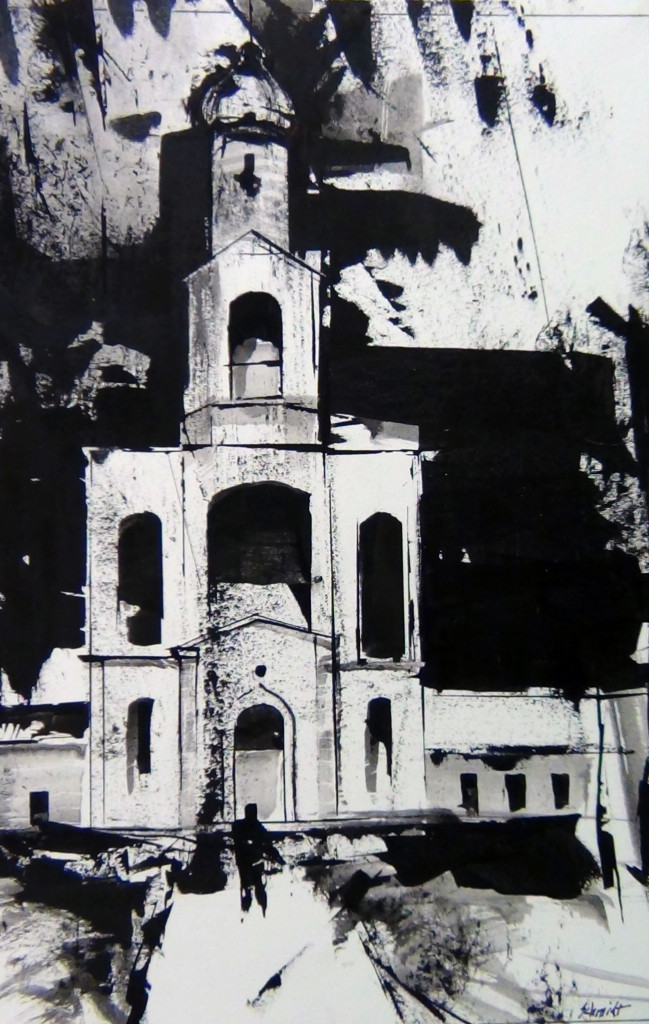 NOVGOROD CHURCH
8 x 12 Inches – 1992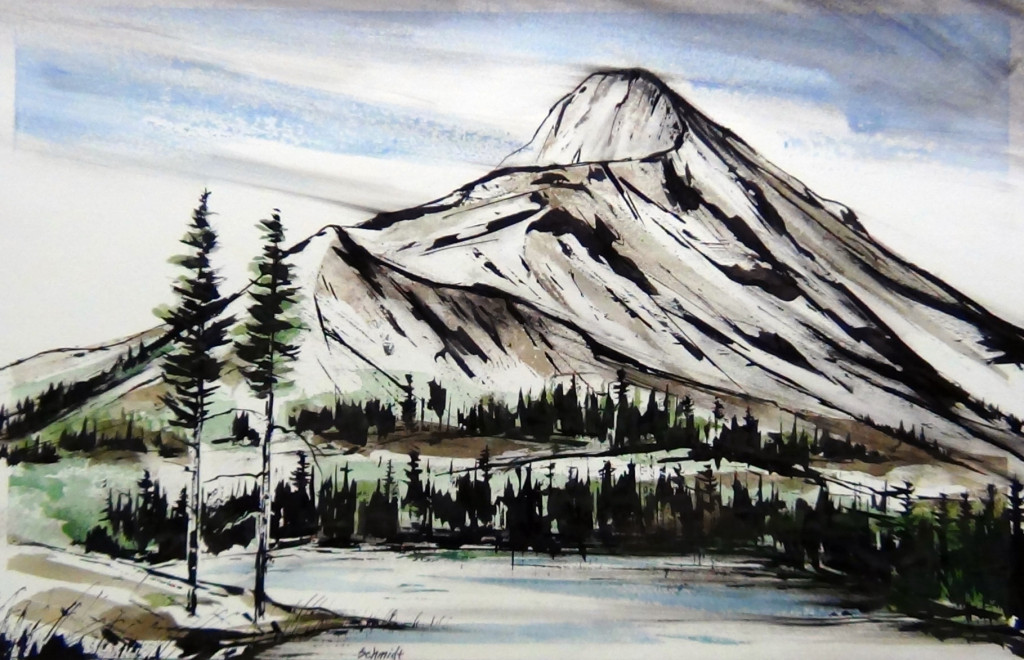 LONE MOUNTAIN
13 x 20 Inches – 2007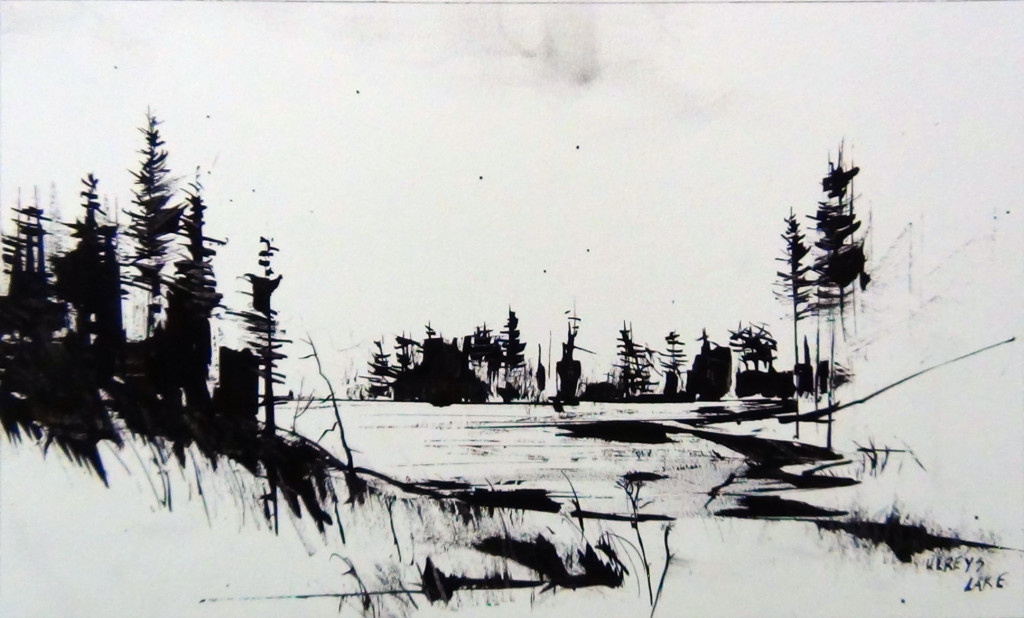 UPPER ULERYS LAKE
8 x 13 Inches – 1989
RINGLING CHURCH
11 x 16 Inches – 1989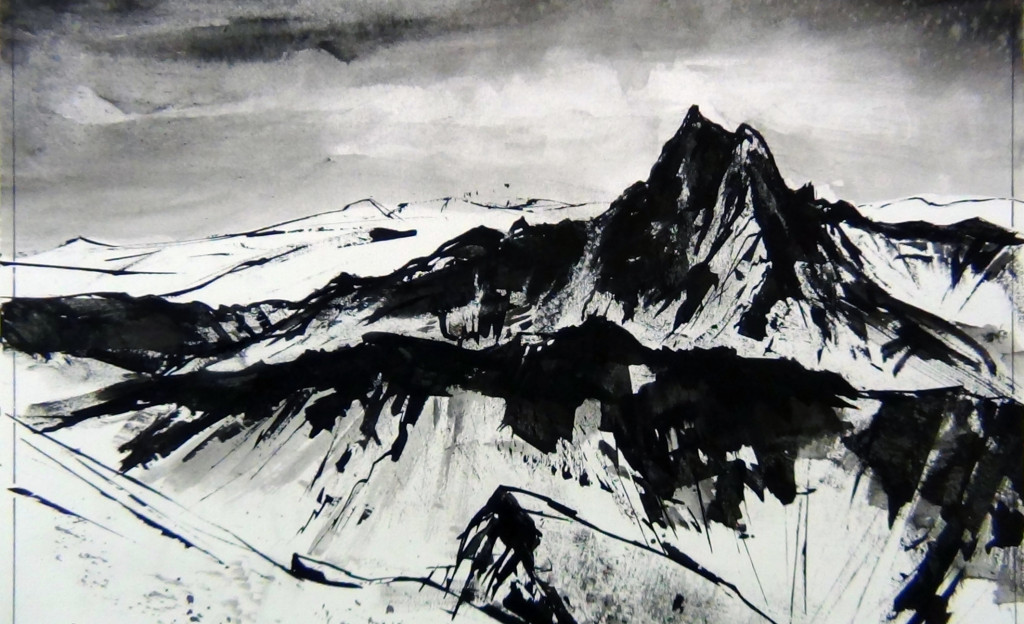 HILGARD PEAK
8 x 13 Inches – year unknown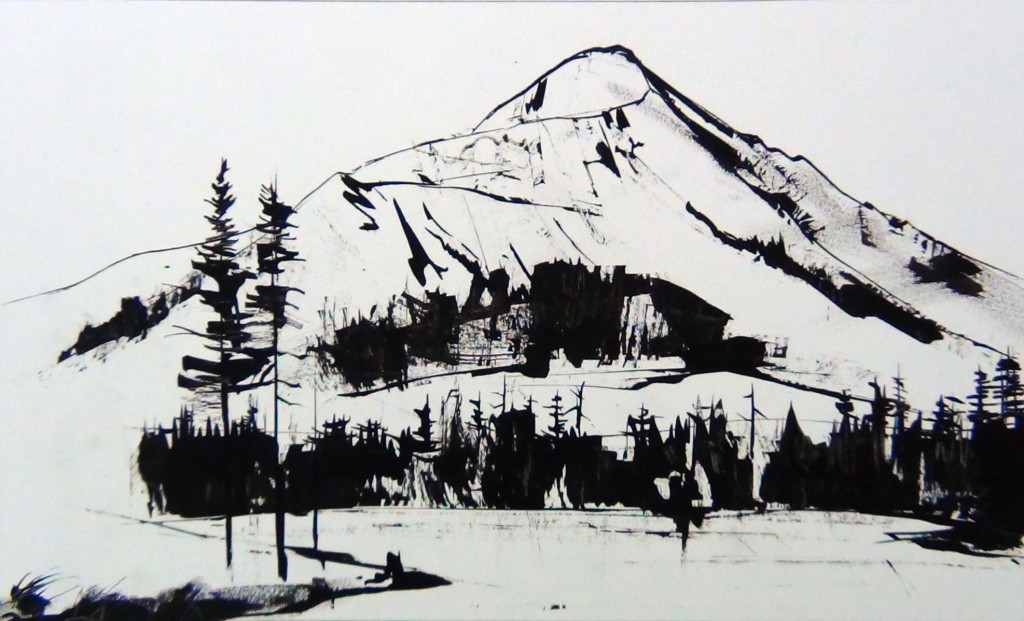 LONE MOUNTAIN FROM UPPER ULERY LAKE
8 x 13 Inches – 1989
**********
– A FEW PENCIL DRAWINGS –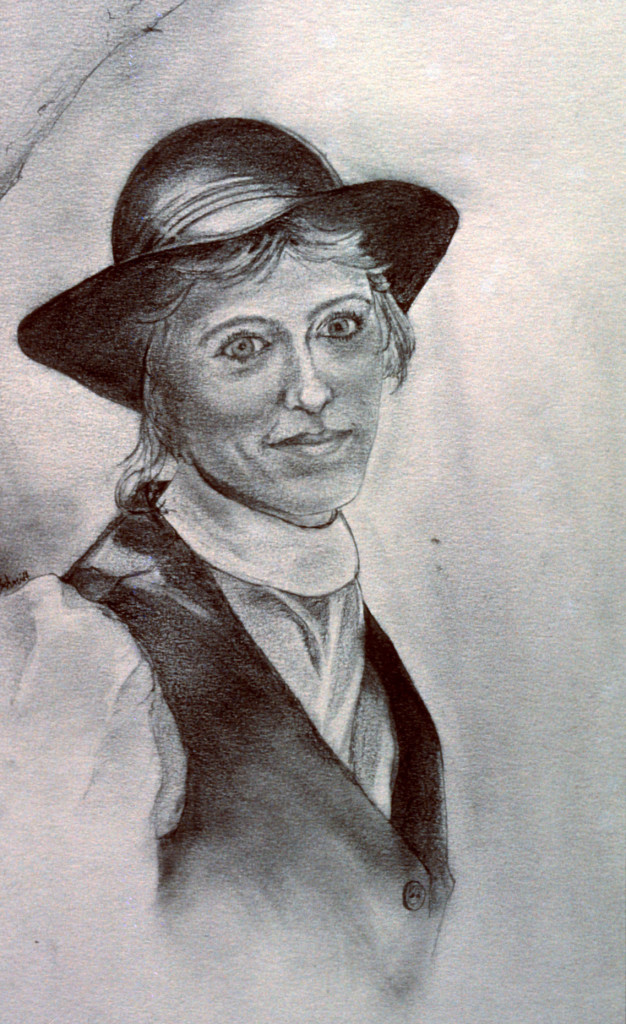 JOYCE
8 x 13 Inches – 1983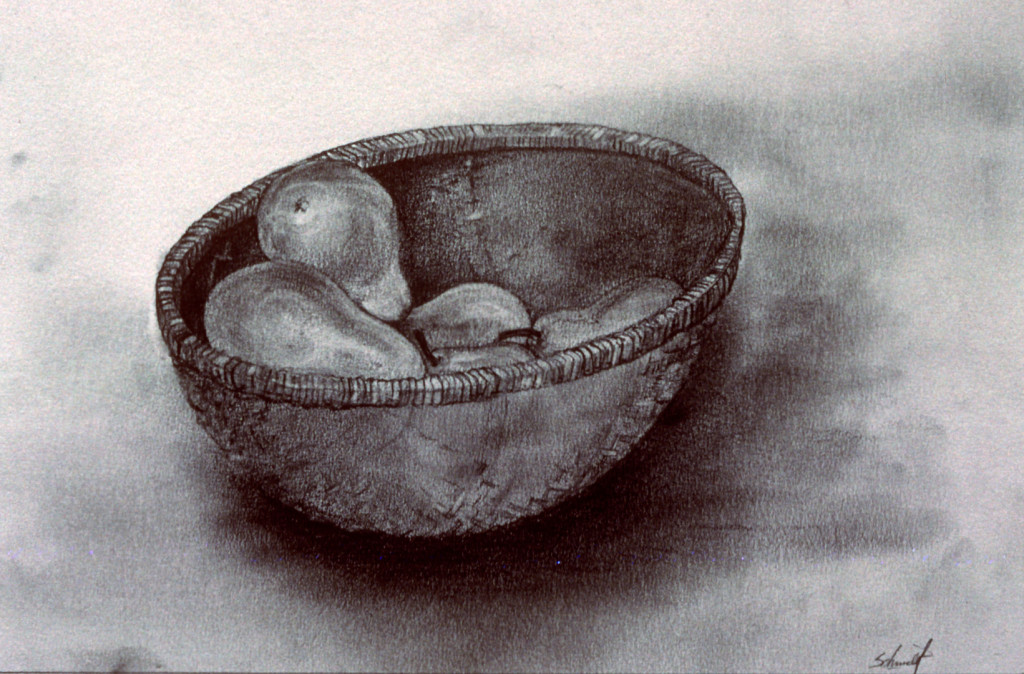 BASKET OF PEARS
8 x 12 Inches – 1983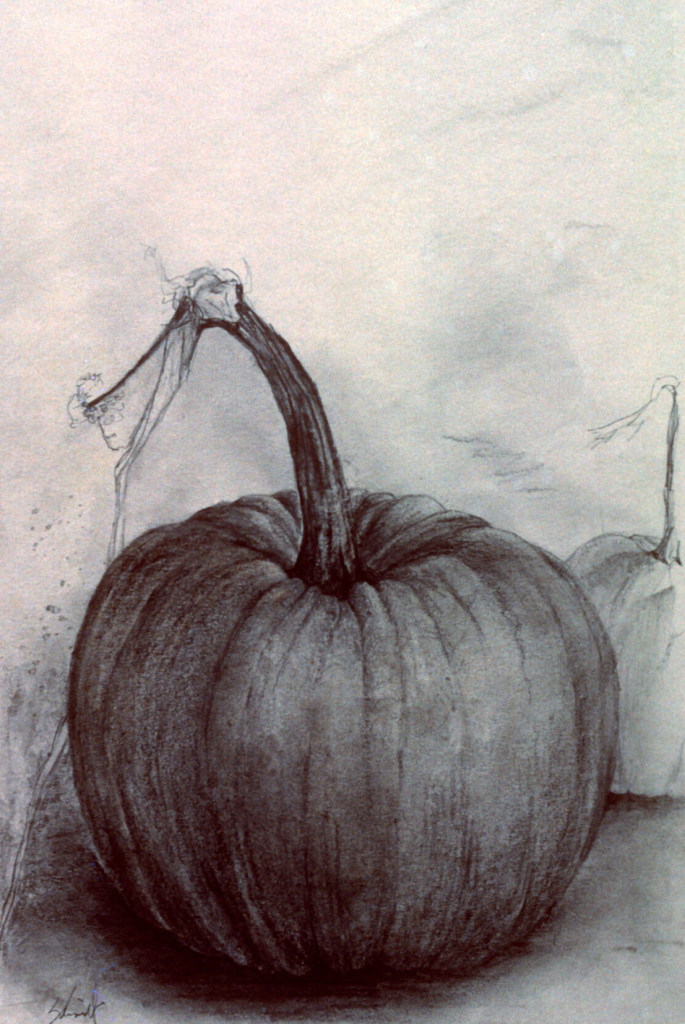 PUMPKIN
8 x 12 Inches – 1983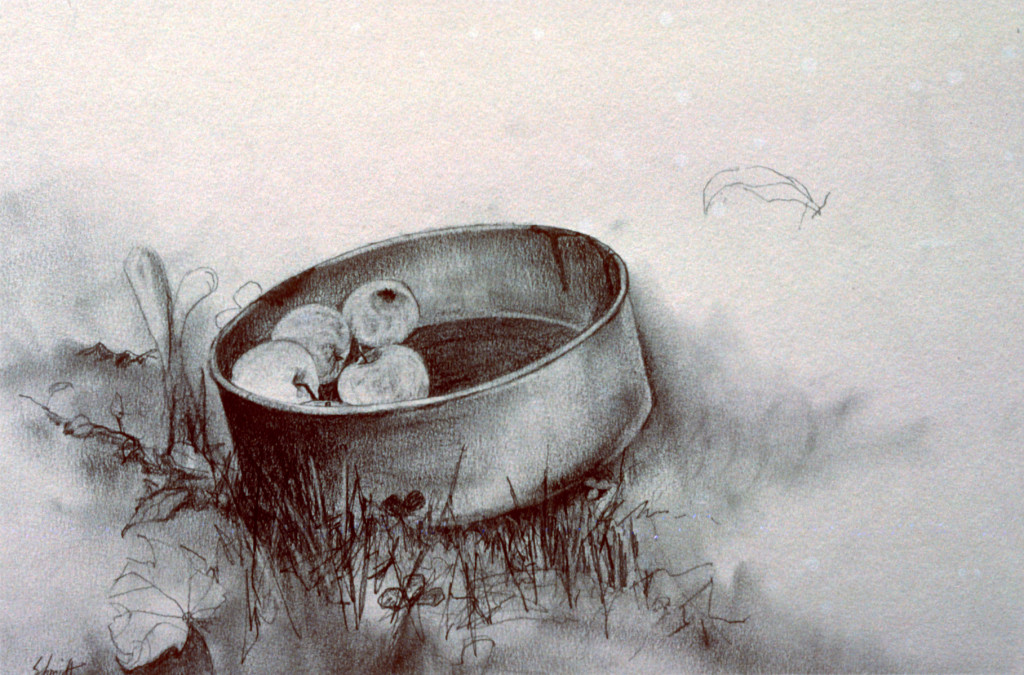 HENRY'S APPLES
8 x 12 Inches – 1983
**********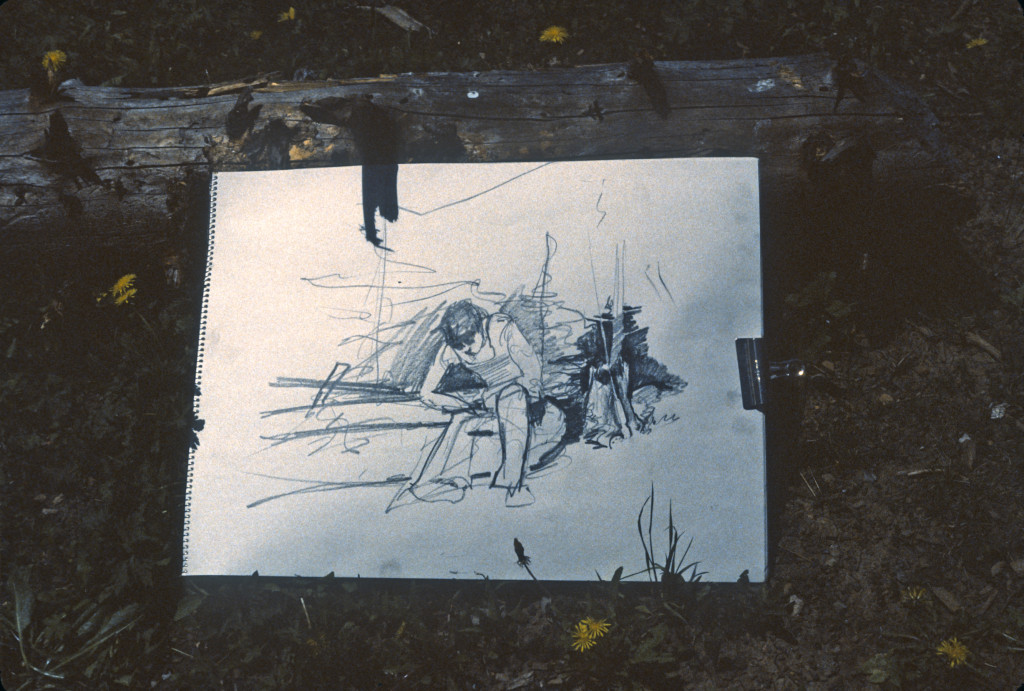 Sketch by Val Thelin while at Fairy Lake – June 1977
During June 1977, I took a workshop with Val Thelin.  There were a number of us in the class.  One afternoon, the class went up to Fairy Lake.  Looking around, I was bewildered as to just what I might select for a suitable subject.  Val noticed this, and came over and said to me, "Nature is too vast for any of us to take it all in.  You've got to take just a small part of it".  "Like what?" I asked.  Val looked around and spotted a small stump near the shoreline.  He began a quick sketch of the stump, using a 6B pencil on a pad.  No sooner had he started, when a guy came along and leaned his fishing pole against the stump.  Then, the guy produced a rubber raft from his bag–and began filling it with air.  Incredible!  A completely suitable subject for a painting began to unfold right before our eyes.  It happened naturally, but it was so unusual it was as if it were all prearranged…   
Content Copyright  (c)    2016 – 2023    JerrySchmidtArtist.com    All Rights Reserved