Aquamedia
-Pigments Of My Imagination-
This website is dedicated to my mother, Phyl Schmidt—who made it possible

ABOUT THE ARTIST JERRY LEE SCHMIDT
Jerry Lee Schmidt is a watercolor artist who is active in the southwest Montana region.  He is best known for both abstract and realistic interpretations of the very unique Montana landscape.
Jerry is also an avid hiker and climber.  Subsequently, some of his inspiration comes from the very high, rugged and remote wilderness alpine country that Montana is so well known for.
Jerry will at times sketch on location, using a razor blade dipped into India Ink.  This type of sketching gives one a more broad sense of shape and form, and is a very direct two value system, making it easy to establish flow patterns within the composition right at the outset.  In addition, the razor blade is essentially identical in shape to the single stroke chisel edge brushes so commonly used in watercolor.  Jerry typically works on 100 % rag surfaces that are mounted to a backing board, as they can withstand great punishment.  He occasionally works on Arches hand made paper as well.
Jerry is very non-traditional in his approach, caring very little for the traditional, purist watercolor methods.  On the contrary, he believes in great freedom, using numerous means and tools to achieve a given end.  Opaque pigments are often positioned immediately near very clean, transparent passages.  Doing so will accentuate the heightened contrast within certain passages of the composition via the Principle of the Resolution of Opposites.  What truly matters in the end is the experience itself.  The experience of giving life to the pigments.  And of course–the finished painting.  A painting with a life of it's own, continually emitting ineffable power and latent energy as it quietly lives upon the wall…
**********
Peaks loom high above me,
wild and jagged.
Within, I am at once elated-
and afraid.
Perhaps tomorrow,
I'll clasp their lofty tops…
                                                                           Jerry Lee Schmidt
**********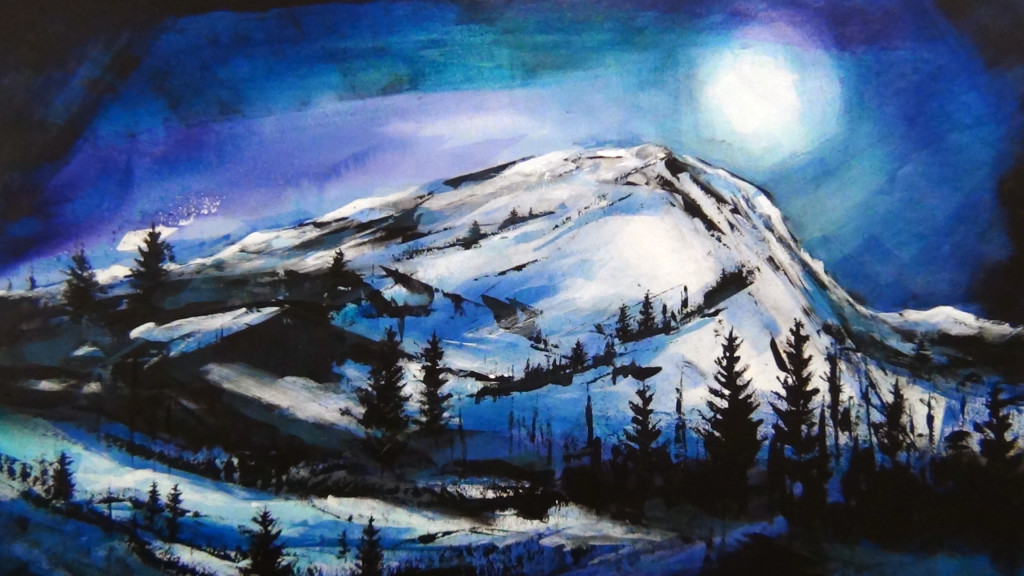 GARNET SNOW
16.25 x 23.25 Inches – 2015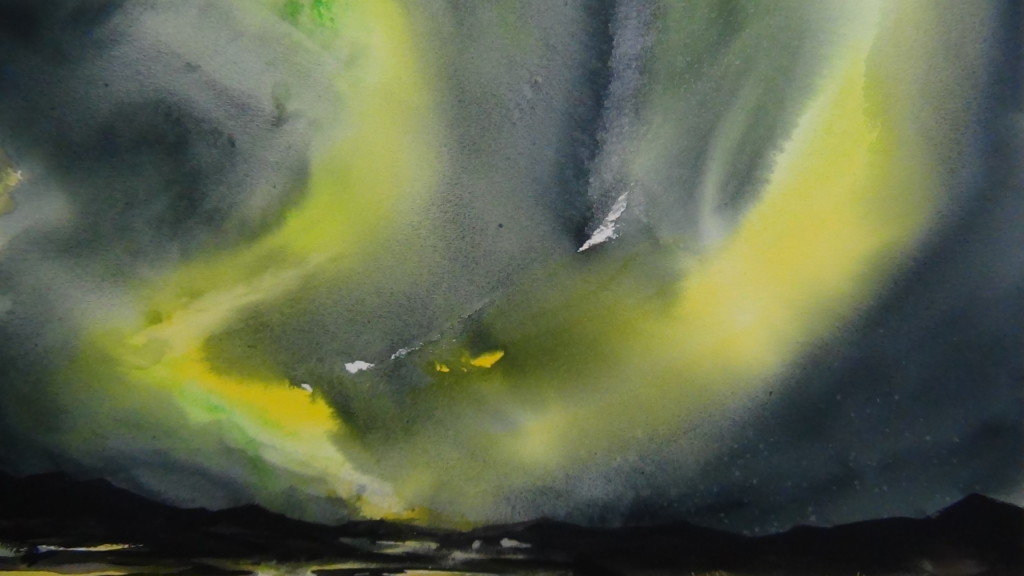 POLAR AURORA
12.5 x 17.5 Inches – 2015
**********
– TRUE ART –
The FUNCTION of "true art" is: "SHARING EXPRESSIVE COMMUNICATIONS WITH MANKIND".
The PURPOSE of "true art" is: "TO GIVE MANKIND THE HINT TO 'SEE' FOR ONE'S SELF".
IN SUMMARY, IF WE COMBINE THESE TWO CONCEPTS:
"TRUE ART ENDEAVORS TO OPEN THE 'EYES' OF MANKIND VIA EXPRESSIVE COMMUNICATIONS".
                                                                                                                                     Jerry Lee Schmidt
**********
"Don't focus on trying to create a great painting.
Just paint each day, and every so often-
a great painting will happen…"
                                                                                                      Raymond Campeau – 1976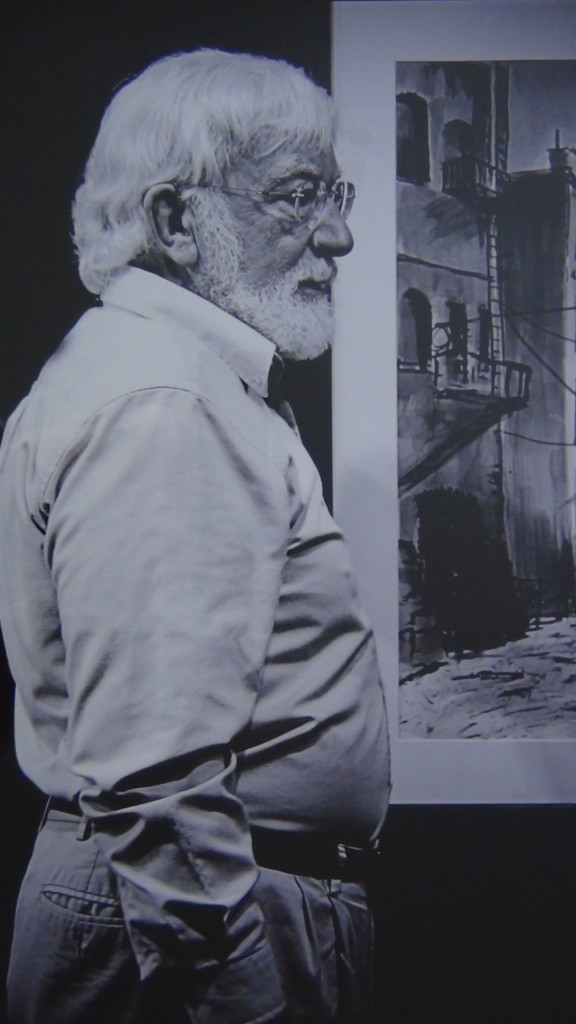 Raymond Campeau
Ray Campeau, Val Thelin, and our Art Class at Bozeman Senior High School – October 1975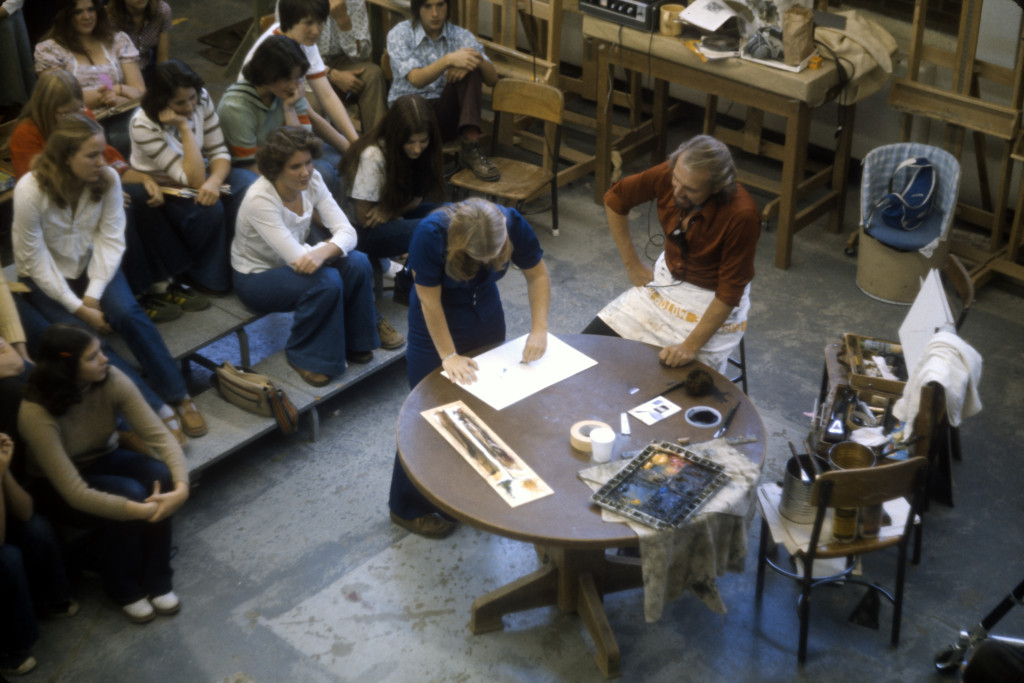 Joyce Kelley and Val Thelin sketching with the razor blade – October 1975
Content Copyright  (c)    2016 – 2023    JerrySchmidtArtist.com    All Rights Reserved